---
After many intensive working days it was time for me to leave the congress and Geneva and I'm now back in Sweden again. I went home with a lot of impressions, so many that it's difficult to sort right now. It is so powerful and inspiring to meet people from around the globe. People you haven't met in four years and also meetings with a lot of new people. Here are some of my highlights from the week in Geneva.
General Meeting. Proud to represent the Swedish Association of Physiotherapists at the WCPT General Meeting together with  Cecilia Winberg, Vice President, Helena Pepa, CEO and Charlotte Chruzander, Health and Medical Strategist .
There where 350 delegates from 108 countries who decided on the content of the business plan over the next four years, about finances, a new constitution for WCPT, a number of different policies and much more. Emma Stokes, Ireland, was re-elected as President of WCPT for another four years and Melissa Locke, Australia, was elected as new Vice-President. Read more here. Our warm congratulations to Emma and Melissa and to the new Board. We wish them all the best of luck for the upcoming years.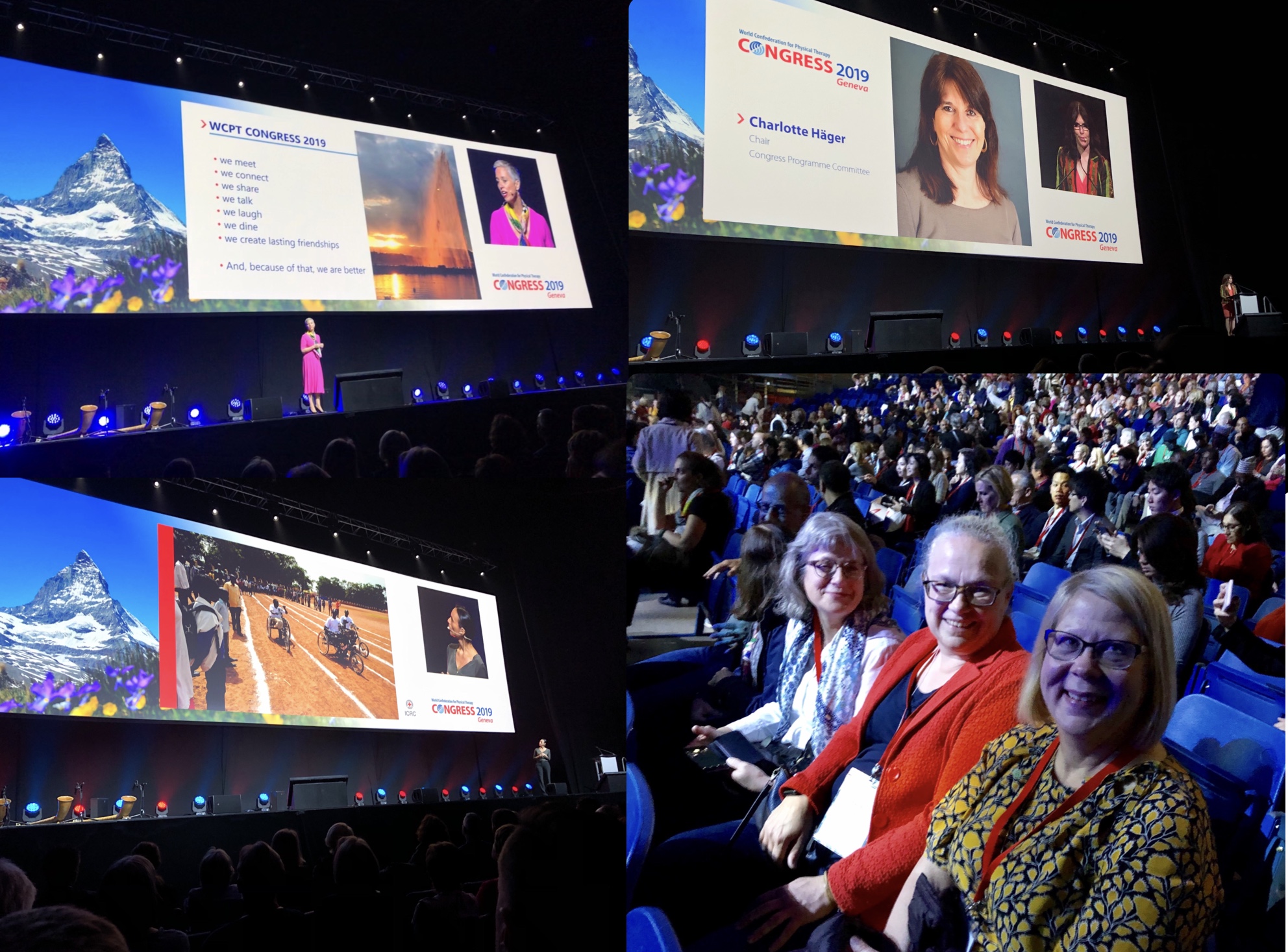 The opening ceremony. Very inspiring that together with 4,300 physiotherapists from 130 countries gather under the direction of the WCPT President Emma Stokes. A fine opening program where I listened very carefully to Esperanza Martinez, ICRC Head of Health, when she told about the amazing work done in over 80 countries. Well done WCPT to highlight this in the opening ceremony. And, of course, as a Swede, you will be particularly proud when Charlotte Häger, chairman of the Congress Programme Committee enters the stage and presents the fantastic selection at the congress. She resembled the programme to a traditional Swedish smorgasbord, where you can pick your own favorites and try a little bit of everything. Read more about the opening ceremony and the congress here.
Awards. ??????????. Several Swedish physiotherapists were recognized with different awards. Charlotte Häger and Christina Opava at the Dinner Award, where I received Christina's award on behalf of her. Helena Pepa, Therese Kristersson and Emelie Karlsson who, in conjunction with the congress's opening ceremony, were advertised as poster-winners. Read more about the prize winners here. Congratulations to all the winners!
Symposium on leadership. It was challenging but also very inspiring to participate in this symposium on leadership together with amazing  colleagues from Ireland, United Kingdom and United States. The engagement in the room was great and we received a lot of positive feedback on the symposium. Thank you WCPT for inviting me. You can take part of my presentation and see the seminar afterwards here.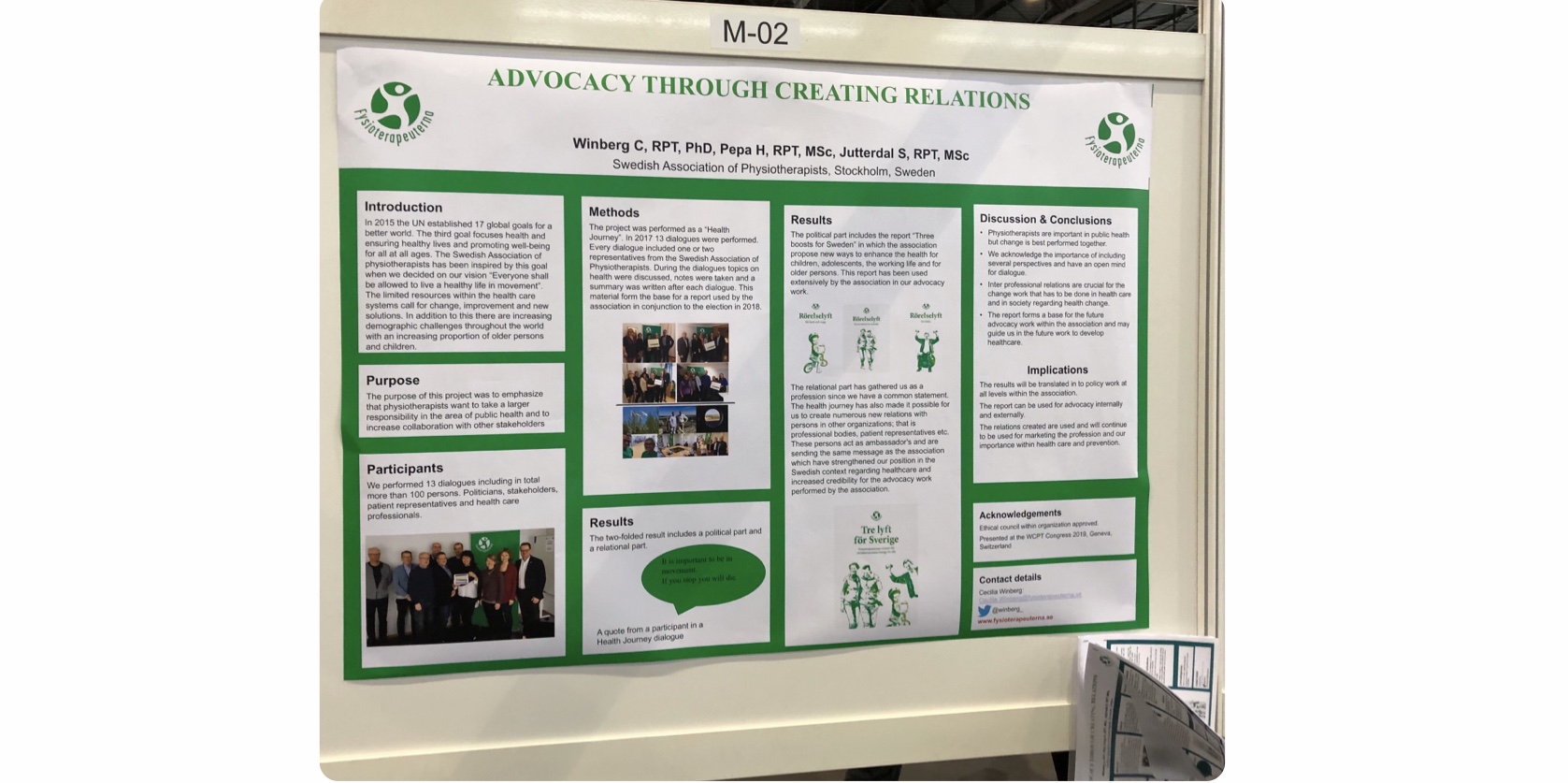 Poster. Cecilia Winberg presented a poster on advocacy through creating relations. Good to see the work and the messages from our association in concentrated form.
Impressions. Being on a world congress like this is like being in a bubble for a few days, with an intense buzzing in different languages, talking, listening and meeting with new and old friends, an important element for the profession's further development.
Thanks a lot to the WCPT, to Emma Stokes and Jonathon Kruger, to Charlotte Häger and the Congress Programme Committee, to Pia Fankhauser and  the Physioswiss and to all of you who has made this Congress week such a success.
Using the words from Emma Stokes: "We meet, we connect, we share, we talk, we laugh, we dine, we create lasting friendship and, because of that, we are better".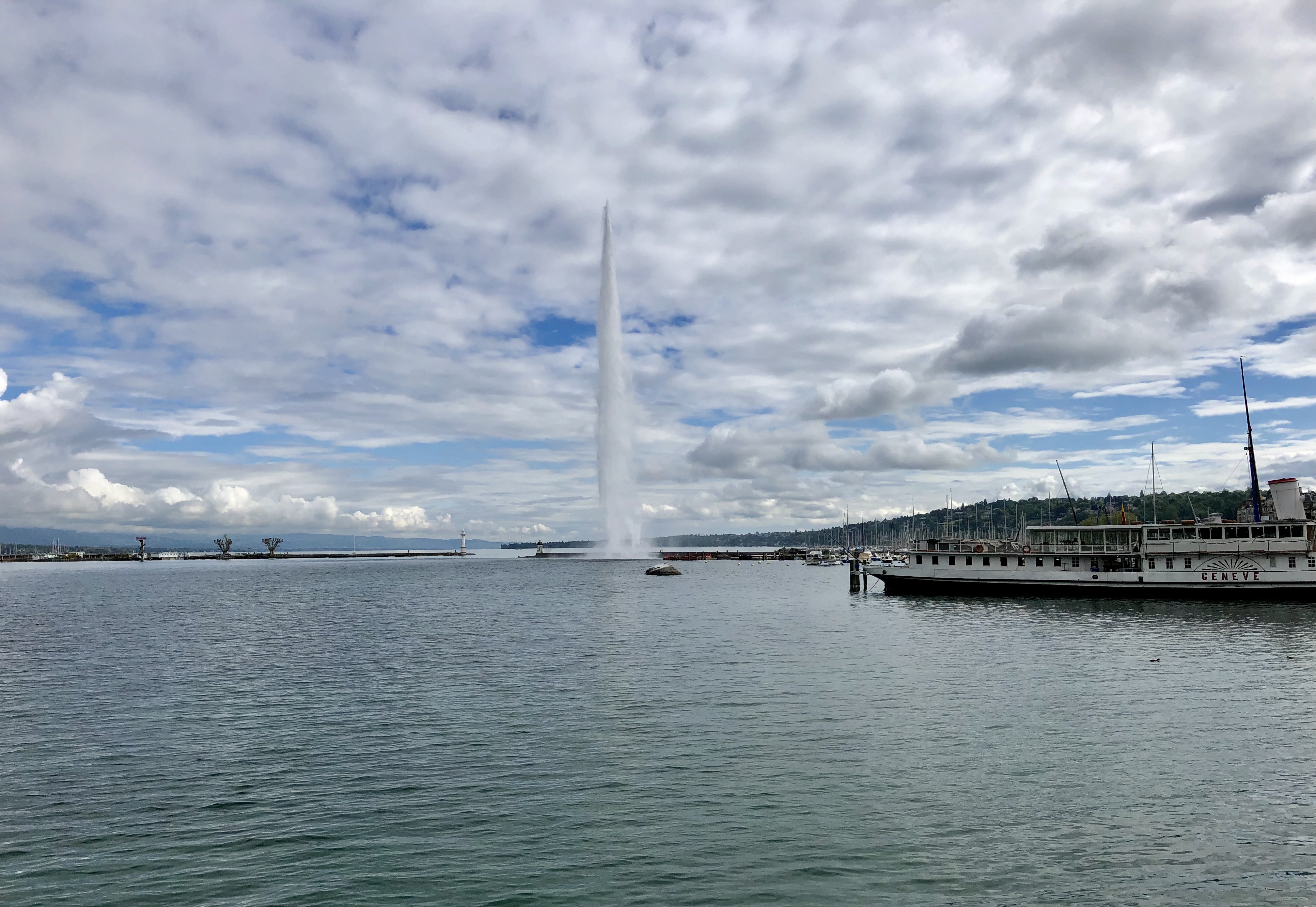 Good bye Geneva!